Save د.ا40
Forklift Mounted Double Eagle-grip Drum Grabs
د.ا670.00 Plus Tax
Deal with more types of barrels, including steel, plastic; Within such narrow environment, such as container loading and
4 in stock
Additional information
| | |
| --- | --- |
| Model No | DG1000A |
| Capacity (kg) | 500 x 2 |
| Net Weight (kg) | 71 |
| Overall Size (mm)  | 910×760×870  |
| Load Center Distance (mm)  | 1150 |
| Lowest Height of Buckle (mm)  | 525 |
| Highest Height of Buckle (mm)  | 750 |
| Height of Buckle Middle (mm)  | 675-600  |
| Forklift Leg Inside Diameter L×H (mm)  | 150×55 |
| Forklift Leg Inside Width (mm)  | 430 |
| Forklift Leg Outside Width (mm)  | 750 |
| Forklift Length (mm)  | 750 |
Technical Details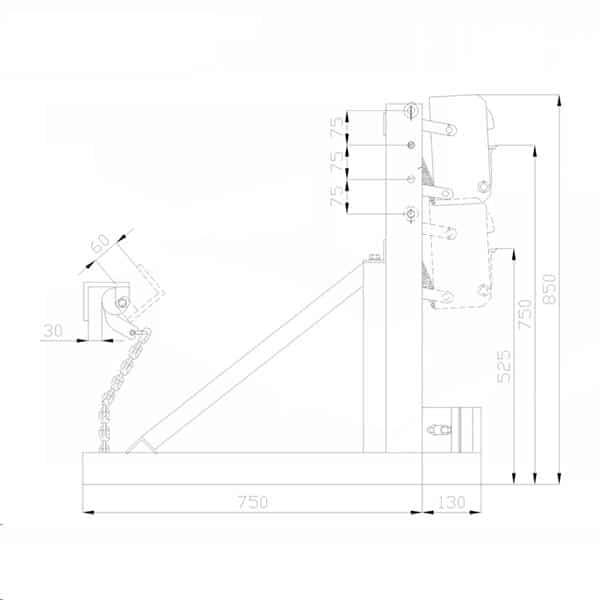 Features
Recommended for the occasion which dealing with more than 800 barrels per month.
Purely mechanical structure design of heavy-duty double-barrel fixture easily fit with the forklift, forklift relies solely on the action, no other power, automatically handling a barrel.
Deal with more types of barrels, including steel, plastic; Within such a narrow environment, such as container loading and unloading of bulk materials, can significantly improve space utilization.
Automatic mechanical operation, to adapt to the different specifications of the barrel. Every barrel can be automatically self-aligning double clamp claws to clamping "buckle", not only further slow down the barrel of the edge stress condition, and to have local damage of the barrel, put the uneven barrels can be reliably handling and stacking.
Video
Quick Comparison
Settings
Forklift Mounted Double Eagle-grip Drum Grabs

remove

Manual Vertical Drum Lifter

remove

Forklift Gator Grip Double Drum Grab

remove

Forklift Gator Grip Single Drum Grab

remove

Forklift Drum Rotator Attachment

remove

Image
SKU
DG1000A
LM800
DG720A
DG360A
HK285
Rating

Rated 2.00 out of 5

Price

د.ا

670.00 Plus Tax

د.ا

380.00 Plus Tax

د.ا

680.00 Plus Tax

د.ا

460.00 Plus Tax

د.ا

490.00 Plus Tax
Stock

4 in stock

3 in stock

2 in stock

5 in stock

2 in stock

Availability
4 in stock
3 in stock
2 in stock
5 in stock
2 in stock
Add to cart
Description
Deal with more types of barrels, including steel, plastic; Within such narrow environment, such as container loading and
One-person operation saves time, reduces spilling waste, and improves productivity. Simply attach or hang lifter on-hook from an overhead hoist or crane, cinch saddle around the drum, and raise to desired height and position.
Carry one or two drums by the automatic grip lock, maintains a positive grip over the rough floor surface, The Gator Grip auto-lock feature will NOT open and ensures safe secure drum transport, The grip head has a different position to fit different height, Easily carry and have much more safety.
Gator Grip Forklift Drum Grab Forklift Attachment designed and manufactured to meet the highest demand applications industries have to offer.
1、Converts your fork truck into a drum handler! 2、HK series Forklift-Karrier can easily lift, transport, raise and tilt loaded drums. 3、The 10′ pull-chain loop allows control from the driver's seat. 4、It has a 30:1 ratio.
Content
Weight
Dimensions
N/A
N/A
N/A
N/A
N/A
Additional information

| | |
| --- | --- |
| Model No | DG1000A |
| Capacity (kg) | 500 x 2 |
| Net Weight (kg) | 71 |
| Overall Size (mm)  | 910×760×870  |
| Load Center Distance (mm)  | 1150 |
| Lowest Height of Buckle (mm)  | 525 |
| Highest Height of Buckle (mm)  | 750 |
| Height of Buckle Middle (mm)  | 675-600  |
| Forklift Leg Inside Diameter L×H (mm)  | 150×55 |
| Forklift Leg Inside Width (mm)  | 430 |
| Forklift Leg Outside Width (mm)  | 750 |
| Forklift Length (mm)  | 750 |

| | |
| --- | --- |
| Model | LM800 |
| Length (mm) | 890 |
| Width (mm) | 687 |
| High (mm) | 200 |
| Diameter (mm) | φ572 |
| Net Weight (kg) | 20 |
| Capacity (lbs) | 800 |

| | |
| --- | --- |
| Model | DG720A |
| Capacity (kg) | 720 |
| Drum Size (Gallon) | 55×2 |
| Net Weight (kg) | 53 kgs |
| Load Capacity | 360 Kgs X 2 |
| Outline Dimension | 910*910*850 mm |
| Eagle-gripper Adjustable Height | 525-750mm |
| Single Fork Sleeve Size | 150*55 mm |
| Outer Width of Double Fork Sleeve | 750mm |
| Fork Sleeve Length | 755 mm |

| | |
| --- | --- |
| Model | DG360A |
| Lifting Capacity | 360kg |
| Drum Capacity | 205 Litres |
| Fork Opening: | 560mm |
| Overall Size: | 880 x 710 x 1000 mm |
| Unit Weight | 60kg |

| | |
| --- | --- |
| Model No | HK285 |
| Capacity | 300 kg |
| Net Weight | 60 kg |
| Drum Rotation Type | Manual Rotation |